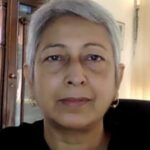 Prof. Sadhana Naithani, 
President
The International Society for Folk Narrative Research is pleased to announce the start of a new lecture series entitled The ISFNR Lecture Series: Voices from Around the Globe, which will be open to not only our global network of international folk narrative scholars but also the general public. The lectures will take place online at 4 pm UTC, on the third Friday of every alternate month, beginning April 15, 2022, each of them coordinated by a member of the Executive Committee of the Society. The plan is for the Vice Presidents of the ISFNR to invite particular members of the Society (and other scholars to present their research in any language in which they wish to speak (bearing in mind the need to communicate to an international audience). The papers not presented in English will be made available in English translation.
On behalf of the ISFNR, I would like to invite you all to join us in this exploration of various cultural phenomena, local and global, old and contemporary, and stable and changeable. Folk narrative scholars continue to record, map and communicate how people are navigating their cultural practices and values through turbulent and peaceful times and through the palimpsestic layers of history which have witnessed the rhizomatic growth of narratives. Indeed, in our own time, it is relevant to ask whether folk narrative still has the means to grasp the truth of a post-truth world.
Details and a schedule of lectures will be announced shortly. Links for the lectures will be emailed to all members of the ISFNR and shared on the Society's website and the Facebook Page. For more information, contact: nisfnr@gmail.com
Ercilia Moreno Chá, Argentina
"The payada: an improvised oral poetic duel in Latin American contexts"
17 June 2022, at 5 p.m. CEST
ERCILIA MORENO CHÁ. Argentine ethnomusicologist. She was a researcher at the Universidad de Chile (University of Chile) and the Instituto Nacional de Antropología y Pensamiento Latinoamericano
(National Institute of Anthropology and Latin American Thought ) of Argentina. She served as Director of the Argentine Instituto Nacional de Musicología "Carlos Vega" (National Institute of Musicology "Carlos Vega") and she collaborated with the Smithsonian Institution and the UNESCO, as advisor for Latin American traditions. Author of books and articles dealing with Latin American improvised oral poetry (payada) , being her most recent book "Aquí me pongo a cantar…" El arte payadoresco de Argentina y Uruguay. (2016) Here I come to sing. The art of the payada (oral poetic duel) in Argentina and Uruguay. 
"Aquí me pongo a cantar…" – PDF book
El arte payadoresco
de Argentina y Uruguay
The improvised poetic duel is an ancient world tradition that is still present today in Latin America in different kinds. One of these forms is the "Payada", which is performed by two minstrels (payadores) singing and playing guitar. It became a ritual performance that contains a special structure and symbolism. Both aspects, structure and symbolism, are preserved within the private context and during shows, festivities and Cultural Performances (Singer 1972).
The Payada phenomenon is performed with a firm respect for the traditional gender conventions. It's main objective is to compete by appealing to a variety of resources and poetic licenses, in order to prove who displays the best skills in the art of poetic improvisation on the musical genres of each region. 
The expression acquires variances according to the audience and the context in which the performance
takes place. Generally, there is a more of rhetorical and argumentative tendency than solely a poetic search. The Payada has a three part structure: the beginning is where the payador introduces himself and/or greets the audience, followed by the confronting of ideas and finally ends with a farewell. 
This phenomenon is aligned to the phases described by Richard Schechner (1994)in his studies of different theatrical performances from the East and West: training, workshops, rehearsals, warm-ups, performance, relaxation and consequences. The improvised duel contested by two or more poets is a widely accepted phenomenon with global presence, but this musical poetic confrontation known as Payada is considered an important part of an Iberoamerican tradition and possesses a genre of discourse entirely of his own.
Case studies from Argentina, Chile and Uruguay will be presented.