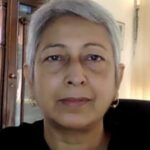 Prof. Sadhana Naithani, 
President
The International Society for Folk Narrative Research is pleased to announce the start of a new lecture series entitled The ISFNR Lecture Series: Voices from Around the Globe, which will be open to not only our global network of international folk narrative scholars but also the general public. The lectures will take place online at 5 pm UTC, on the third Friday of every alternate month, beginning April 15, 2022, each of them coordinated by a member of the Executive Committee of the Society. The plan is for the Vice Presidents of the ISFNR to invite particular members of the Society (and other scholars to present their research in any language in which they wish to speak (bearing in mind the need to communicate to an international audience). The papers not presented in English will be made available in English translation.
On behalf of the ISFNR, I would like to invite you all to join us in this exploration of various cultural phenomena, local and global, old and contemporary, and stable and changeable. Folk narrative scholars continue to record, map and communicate how people are navigating their cultural practices and values through turbulent and peaceful times and through the palimpsestic layers of history which have witnessed the rhizomatic growth of narratives. Indeed, in our own time, it is relevant to ask whether folk narrative still has the means to grasp the truth of a post-truth world.
Details and a schedule of lectures will be announced shortly. Links for the lectures will be emailed to all members of the ISFNR and shared on the Society's website and the Facebook Page. For more information, contact: nisfnr@gmail.com
Learning and Unlearning Folklore: Questions of Recognition, Transcoding, Genre, and Justice Revisited
18 November 2022, at 5 p.m. CET
Cristina Bacchilega coedits Marvels & Tales: Journal of Fairy-Tale Studies and is Professor Emerita of English at the University of Hawai'i-Mānoa where she taught fairy tales and their adaptations, folklore and literature, and cultural studies. She is the author of Postmodern Fairy Tales: Gender and Narrative Strategies (1997), Legendary Hawai'i and the Politics of Place: Tradition, Translation, and Tourism (2007), and Fairy Tales Transformed? 21st-Century Adaptations and the Politics of Wonder (2013). And the coeditor of two recent collections, The Penguin Book of Mermaids with Marie Alohalani Brown (2019) and Inviting Interruptions: Wonder Tales in the 21st Century with Jennifer Orme (2021). Her current projects are collaborations that continue to pursue situated understandings of folklore and the fantastic.
My trajectory as a folklorist and fairy-tale scholar has been shaped by the experience of being a woman and settler of color in Hawaiʻi for close to forty years, a settler who seeks to be an active ally for Hawaiian sovereignty and social justice. Learning from Hawaiian moʻolelo and Hawaiian scholars has played a role in this trajectory solidifying my recognition of multiple traditions of wonder and why that matters. While raising questions of translation or transcoding, genre, disciplinary boundaries, and justice, this talk explores the relationship between Indigenous wonderworks and the fairy tale as one of several wonder genres.